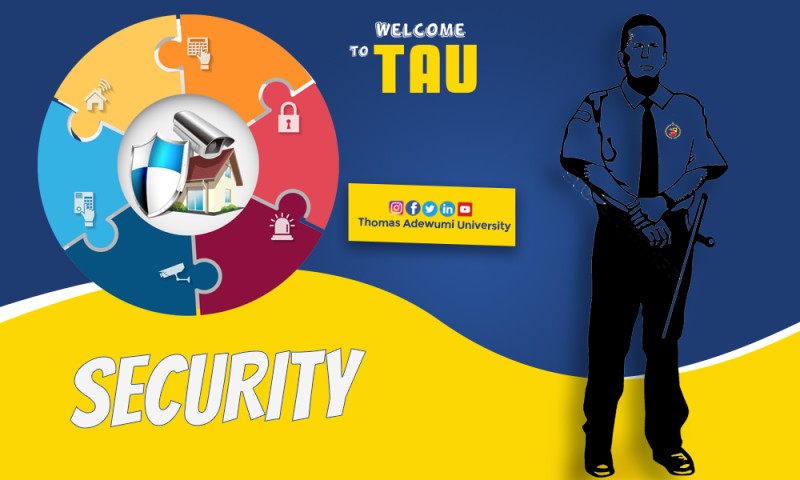 The Unit is headed by the Chief Security Officer, Mr Alabi Johnson. He supervises the activities of the unit and he is responsible for the daily running of the unit as related to the protection of lives and properties on campus. There are other security officers that handle the activities of the unit.
The Security department is under the Vice-Chancellor's office. The objectives are:
To protect lives and property within the community

To ensure the maintenance of law and order on campus

To liaise between the University community and external security agencies on security issues.

To serve as a clearing house for all matters relating to security on campus.

To make the University conducive for both academic and non-academic activities. 
From the Desk of the Head of Department
As the Chief Security Officer at Thomas Adewumi University, I want to assure you that the safety and security of our campus community is our top priority.
Our team of highly trained security personnel work around the clock to ensure that our campus remains a safe place for everyone. We have implemented various measures to prevent and respond to any security threats, including 24/7 monitoring of our campus grounds, access control systems, and emergency response protocols.
We provide a range of safety resources and training programs to educate our community members on best practices for staying safe on campus. In addition to our security efforts, we are also committed to fostering a culture of inclusivity and respect on campus. We do not tolerate any form of discrimination, harassment, or violence, and we encourage everyone to treat each other with kindness and respect.
We are proud to be a part of Thomas Adewumi University community, and we will continue to work tirelessly to maintain a safe and welcoming environment for all.
Sincerely,
Mr. Alabi Johnson
CSO, Thomas Adewumi University.